Traveling to another country to receive medical services for the diagnosis and treatment of diseases, as well as plastic surgery and dental interventions, is called differently, both «medical tourism» and «treatment abroad».
Many specialists and companies organizing trips abroad for medical purposes prefer the second name since it is the world-class medicine that is the main goal of such a trip abroad, and tourism-related services are an important but auxiliary issue.
The main reason for patients leaving their country to receive treatment and diagnostic services is the lack of certain types of treatment or the low level of their performance at the place of residence.
Advanced medicine will help in those countries where there are:
the best specialists in the world;
the latest technology;
innovative materials and drugs;
modern hospital service.
A trip to another country is the logical and sometimes the only option for saving lives, avoiding disability, and curing serious illnesses in children and adults.
In the modern world, medicine in a number of countries, for example, in clinics in Turkey, is available to a large number of patients. For example, patients from Kazakhstan with a variety of diseases and those people who seriously care about their health and need even standard surgical operations and medical treatment procedures make a choice in favor of foreign specialists. As well, many people want to improve their appearance abroad.
FAQ - Frequently Asked Questions
What diseases are most often treated abroad? What treatment programs and techniques are most in demand?
Most often people go abroad:
for the treatment of oncological and hematological diseases in children and adults using high-tech medical techniques (for bone marrow transplantation, targeted therapy and immunotherapy, proton therapy);

for the treatment of rare (orphan) diseases;

for minimally invasive surgery (for example, for scoliosis in children and adolescents, for heart and brain surgery, for robotic interventions, hip and knee replacements);

for the IVF procedure;

for reviewing the diagnosis and obtaining a second opinion on the treatment regimen from leading experts.

all types of plastic surgeries are also in demand, including hair transplantation.
Which countries are the most popular and why?
Currently, the leaders in providing world-class medical services to patients from many countries of the world, taking into account statistics and reviews, are Israel, Germany, Turkey, and South Korea.
Since the 90s of the last century, patients from the CIS countries have been coming to Israel and Germany, and now the situation has not changed much. Only the medical centers of these countries feature:
some innovative treatment programs;
narrow specialists with a very high level of qualification work;
the most high-tech equipment;
the most innovative methods of treatment for most diseases.
At the same time, an excellent alternative in terms of the availability of services (therapeutic programs and methods that favorably differ in the optimal cost/quality ratio) is the medicine of Turkey and South Korea. In these countries, everything advanced in the world in medicine is being introduced very quickly, and all doctors undergo training in the USA and Europe.
There are a number of points that also distinguish the stay of foreign patients in these countries. In South Korea, the treatment of these patients and the quality of services are carefully monitored by special government agencies. Therefore, this country is preferred by residents of a number of CIS countries.
The website of one of the most authoritative statistical resources in the world provides information that in 2021, of all foreign patients treated in South Korean clinics, 2.4% came from Kazakhstan, 1.4% from Uzbekistan.
In Turkey, the traditions and services of international tourism are integrated into medical tourism, for example, in the excellent service in hospitals, which are like first-class hotels. On the website of the USHAŞ organization, which was created by the Turkish Ministry of Health to promote local medicine for foreigners, you can find information that medical services were offered to 670,730 foreign patients in Turkey in 2021 and to 876,521 patients from other countries in the first three quarters of 2022. The number of patients from Kazakhstan is growing especially fast.
What are the prices for treatment abroad?
Prices for the same medical services vary depending on the country, the level of the clinic and the doctor, the equipment used, the method of therapy, and drugs in this particular country. It is no secret that the price level in Germany and Israel, in general, is always higher than in Turkey.
How to organize treatment abroad?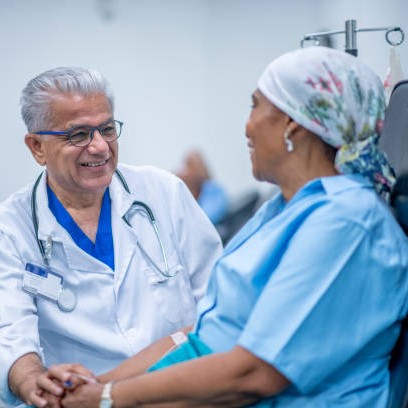 There are two main ways to choose a country, clinic, doctor, program and method of treatment, taking into account the price of the entire package of both medical and tourist services, and organize a trip abroad:
on one's own,
with the help of a company providing medical tourism services
To make the right choice, it is first advisable to evaluate the features of these two options.
Is it possible to organize treatment abroad on my own?
If you have acquaintances/relatives abroad and/or experience with treatment in foreign clinics, you can most likely arrange your own trip to another country for medical purposes. However, this will take a lot of time and effort.
First of all, collecting and processing a lot of necessary information by browsing a lot of sites dedicated to the treatment of your disease and then choosing a country, clinic and doctor is a very difficult task in the context of a huge selection of clinics and international specialists. Especially people who are far from medicine.
It is also very important to find a qualified translator and be sure that the translation will be accurate, with all the nuances, which is especially important when it comes to medical interventions.
As well, you need to organize the departure itself: purchase tickets, take care of a visa (if needed), book a hotel room next to the clinic for an accompanying person, transfer from the airport, and many other important points.
This is not a complete list of issues that will have to be resolved independently. Sometimes it should be made directly during the trip. For an unhealthy person, it is important to know that everything is taken into account in advance and everything goes according to the intended treatment plan and without stressful situations, even if it is an urgent or complex medical case.
Therefore, it is better, as in all important issues, to make a choice in favor of professionals and specialists in organizing treatment in foreign clinics.
How to choose a company that organizes treatment abroad?
Organization of treatment abroad is a complex activity that includes many aspects of both medicine and tourism.
A company that you can trust with your health is, first of all, a very informed organizer of medical services. Coordinating doctors must demonstrate a high level of expertise, know absolutely everything about treatment in clinics, medical centers and doctors they cooperate with, including prices, and respond to any questions related to the organization of departure from the country for the purpose of recovery.
Such an organization must have at least 5 years of experience (only during this period a database of qualified doctors with good reviews can be developed). This can be clarified by carefully studying the website of the operator of such services. Also on the website of such a company you can find key information on the treatment of your disease in foreign clinics and other useful information.
Specialists and experts in treatment abroad have visited many clinics and personally know many doctors and translators. A good company will always offer several treatment options in different clinics, taking into account the requests, wishes, and budget of patients. It has good reviews about its services and stories of grateful patients on specialized forums, social networks, and other media.
Choosing a competent organizer for your trip abroad for the purpose of treatment is the first important step toward recovery!
What do you need to know about Experts Medical?
Experts Medical has been successfully working with patients from many countries for a long time, including from Kazakhstan and other Central Asian republics:
Facts about Experts Medical
More than 2,000 patients have already received high-quality medical care abroad with our help in the best clinics in the world.

Payment for treatment is made directly at the medical institution (university clinic, specialized center). Since we are the official representatives of clinics in the CIS countries, our services for the patient are completely free.

Our company cooperates with more than 70 clinics around the world (the best of them are presented on our website), so we will quickly select the best option that will fully meet your requirements and budget. Even if you need a narrow specialist dealing with rare diseases, we will contact him as soon as possible.

We work only with licensed specialists who have proven themselves among our patients (have only positive feedback) and are respected by colleagues and in the international medical community.

Our experience, developments and long-term partnership with many medical centers allow in many cases to reduce the cost of treatment and prices for services through special offers and discounts.

Our professional, experienced, and sensitive medical coordinators are always ready to help in any matter during your stay and treatment abroad.

Our patients always feel confident due to a clear understanding of the treatment plan and its cost.

We take care of assisting you to pay for the treatment of children with the help of funds.

Since 2018, Experts Medical has helped pay for the treatment of children in the amount of $1,414,500 USD.
How does the funded treatment abroad program work?
Children are a special category of our patients, to which we pay special attention. In particular, Experts Medical cooperates with foreign funds that help pay for the treatment of a child if the family is unable to fully cover the necessary expenses.
We will help you prepare documents for submission to a charitable foundation, as well as communicate with this foundation. If the issue is resolved positively, the fund transfers the required amount (from $10,000 to $20,000) to the clinic's account (these funds can only be used to pay for the child's treatment). If less than the declared amount is spent on therapy, the remaining funds are returned to the fund to help other sick children. The criteria for paying with the fund are as follows:
age up to 18 years;
the need for treatment abroad (examination and rehabilitation are not covered by the fund).
Fundraising is an important part of our work with children.
How does Experts Medical organize treatment abroad?
Our service includes the following steps:
You apply to Experts Medical with a request for treatment. You should fill out the feedback form on our website or order a call back on the website;
Experts Medical's coordinating doctor will contact you the same day, receive full information from you about your medical case, and listen carefully to your wishes regarding the trip for treatment;
Experts Medical's coordinator contacts several foreign medical centers and clinics and receives a treatment plan and an estimated cost from them. We always provide several price quotes and you choose the most suitable one for you. If necessary, Experts Medical organizes an online consultation with a doctor and answers all your questions. You get the most detailed plan of examinations and treatment with prices for services;
If the child requires treatment, the Experts Medical's specialist draws up all the necessary documents for funds to help pay for treatment;
To arrange a trip, Experts Medical helps to purchase tickets for selected dates, rent accommodation near the clinic, apply for a visa, and organize a transfer from the airport to the hospital;
Experts Medical provides a professional medical translator;
During the treatment at the clinic, your personal coordinating doctor from Experts Medical will be in touch with you throughout your stay in the clinic and will help resolve all issues that arise;
After your return, you can always contact us to organize observation, consult with your doctor, and undergo rehabilitation and other medical issues.
The Experts Medical team is always happy to help solve any medical problem and will go through all the stages of the path to your recovery with you!